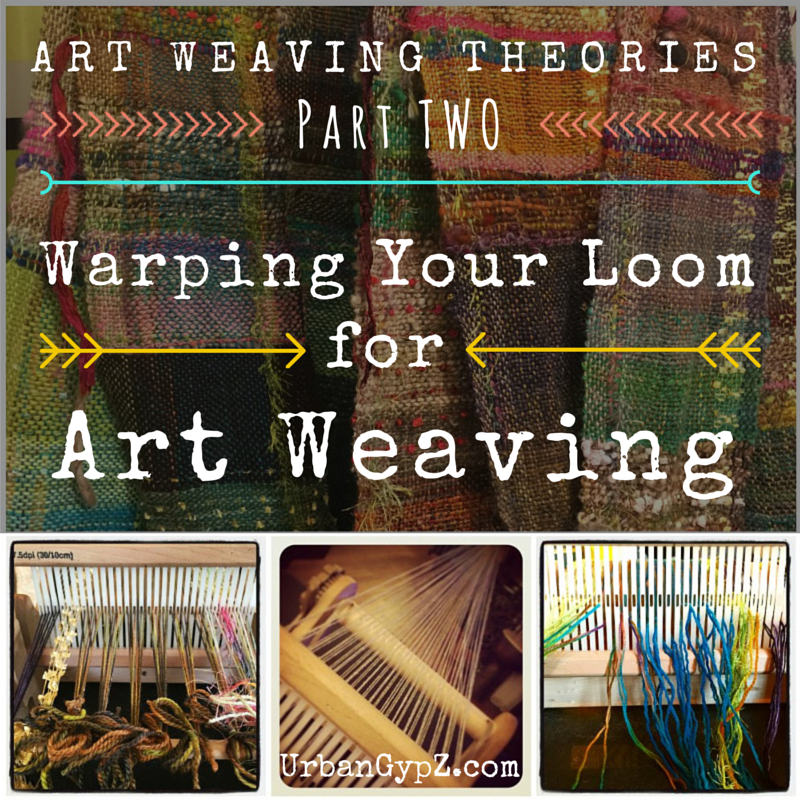 If you have been following my Instagram, you will see I have been obsessed with all things weaving since I came back from On Higher Ground Fiber Workshops in Taos last October. Debra Lambert of Picasso Moon taught an awesome class on weaving, sent me home with a loom, and I have been hooked.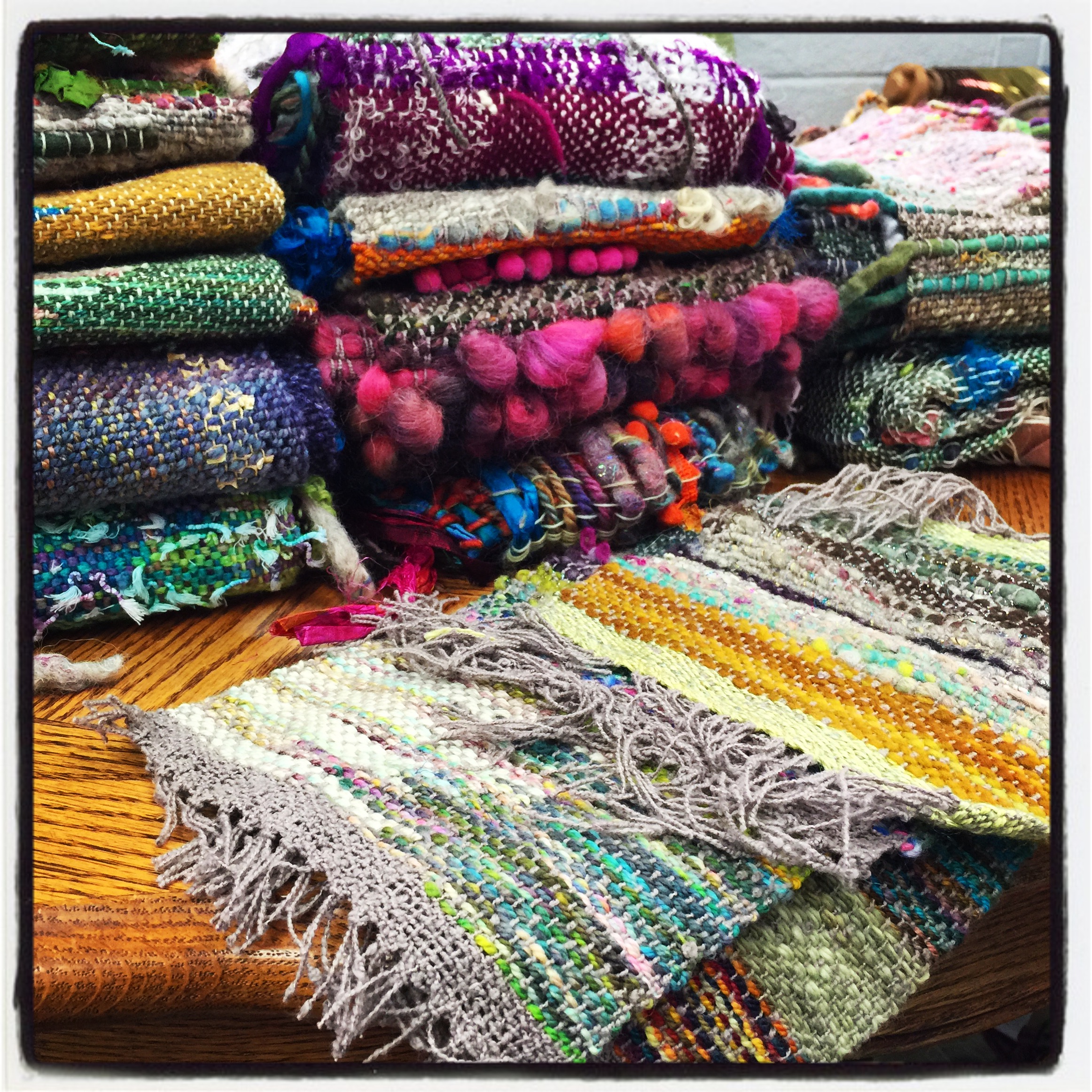 I have had many questions about my weaving. This is the second part of my four part series on art yarn weaving. You can find Part 1 of this series here. By art weaving, I am talking about an intuitive practice that is very similar to the Saori method of weaving. It is all about being in the moment and intuitively selecting yarn and techniques as you work. It is so similar to how I love to knit. I have been completely blown away by the results.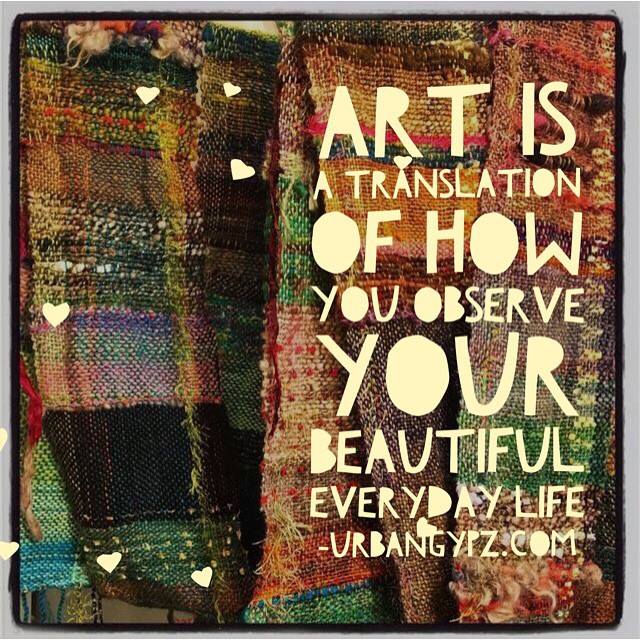 This series MY perspective.
I am not a weaving expert by any stretch of the imagination. And if you have been following my articles, you already know I am all about embracing a fiber art rebel attitude when it comes to craft traditions. So I have no doubt I am breaking some traditional weaving rules here. Or not… who knows. I have not spent as much time studying the traditions as I have just diving into making the mistakes and discoveries.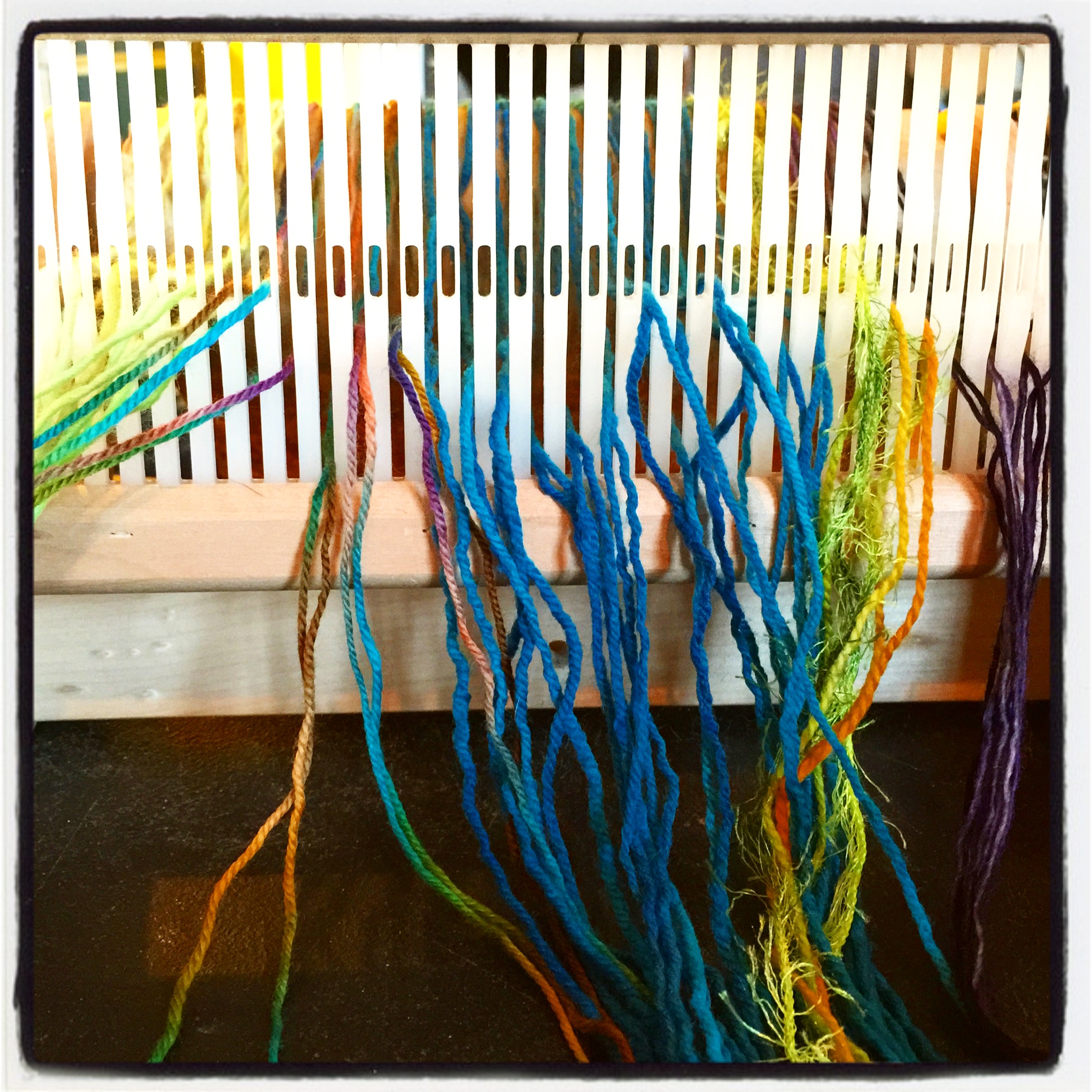 Today I am going to talk about warping your loom.
I am not going to lie. Warping has always been one of my least favorite  tasks in weaving. And one of the main reasons why the tiny looms are so awesome is I can have the loom dressed and ready to go in 30 minutes.
But over the last 6 months, I have come to see warping as an opportunity to add another design dimension to my weaving. Warp can play a significant part in what your fabric looks like. Which should be a given, Right? It makes up 50% or more of your hand made cloth.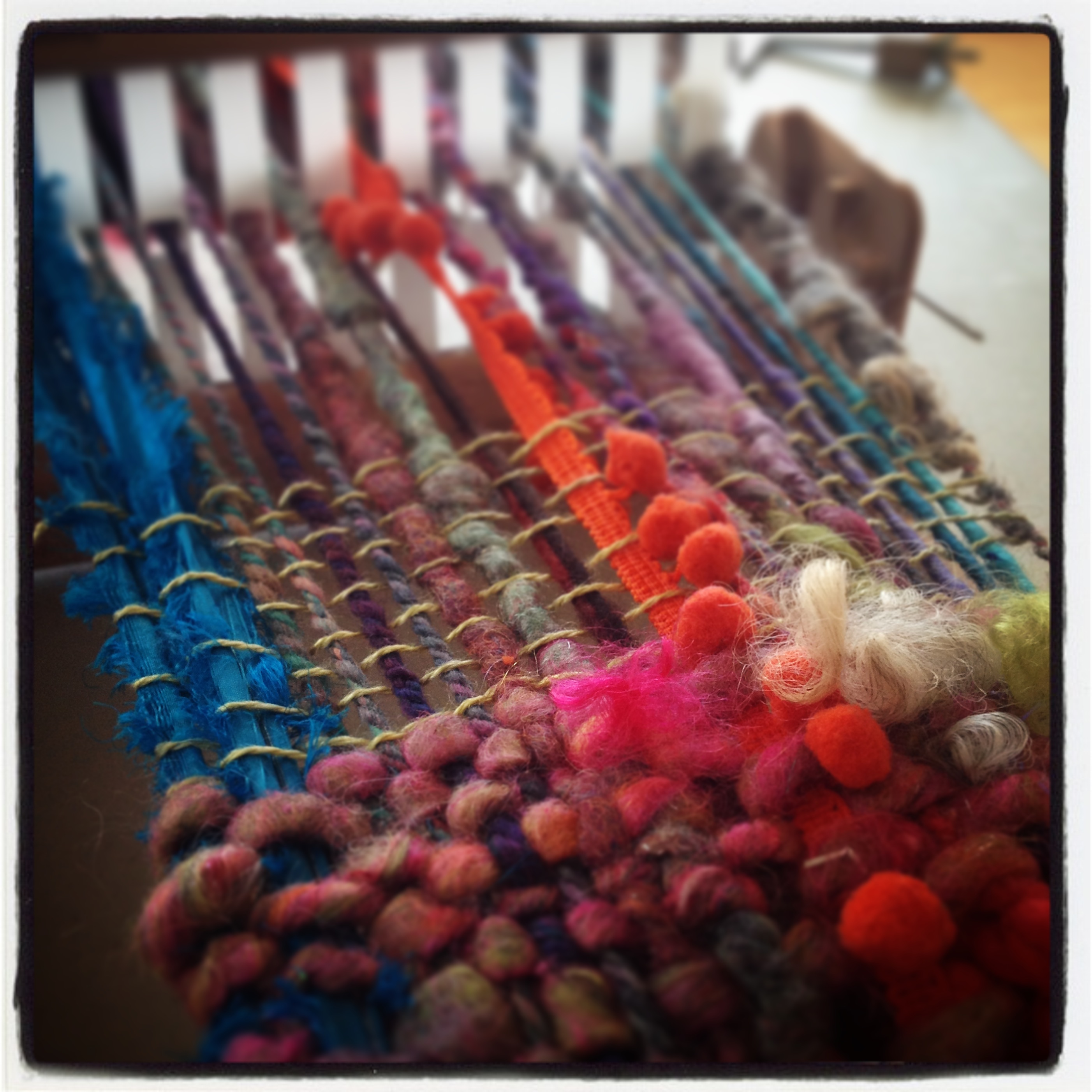 What yarn to use?
When picking yarn to warp, the most important thing to look for is a strong yarn. It will have to endure a bit of wear as you tighten the loom, move the heddle, and beat the weft into place. Take it from me it can SUCK when a warp thread breaks. But, I am not saying you can only use a coarse ugly cotton string that you would never dream of knitting with. Plied is probably better than singles (although I have had success with some sturdy wool singles). Sock yarn is a terrific option. As is beautiful hand dyed silk lace yarn. There are many looms that have some heddles designed for textural art yarns. But for your first piece, I would recommend sticking with  something not so bulky.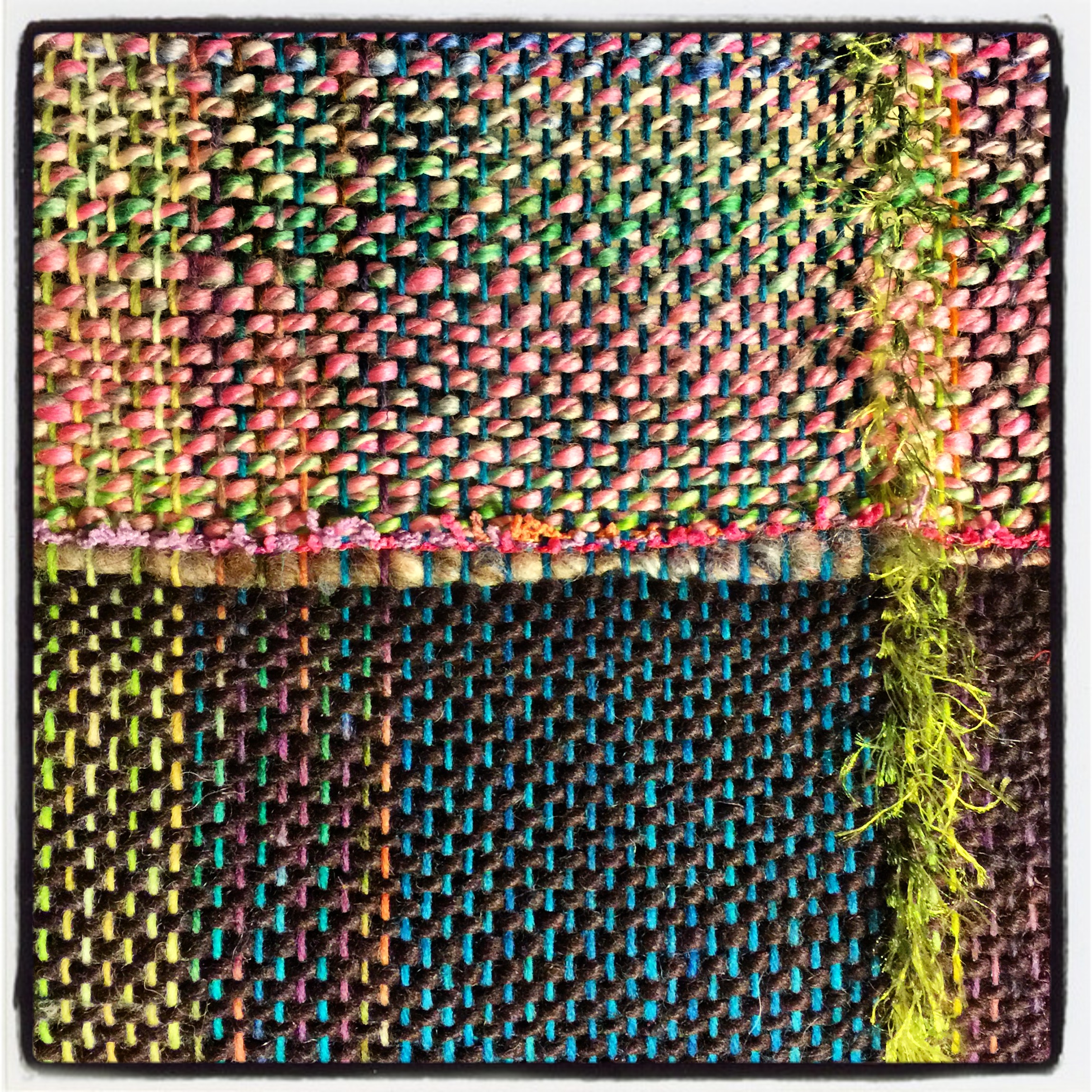 Consider adding color and texture to your warp.
This is a great place to add a stripe of novelty yarn. I have also found some interesting colored warps (hello remnant sock yarn stash) can give awesome depth to your fabric. Don't overthink the selection too much. You will be pleasantly surprised with the results as you work.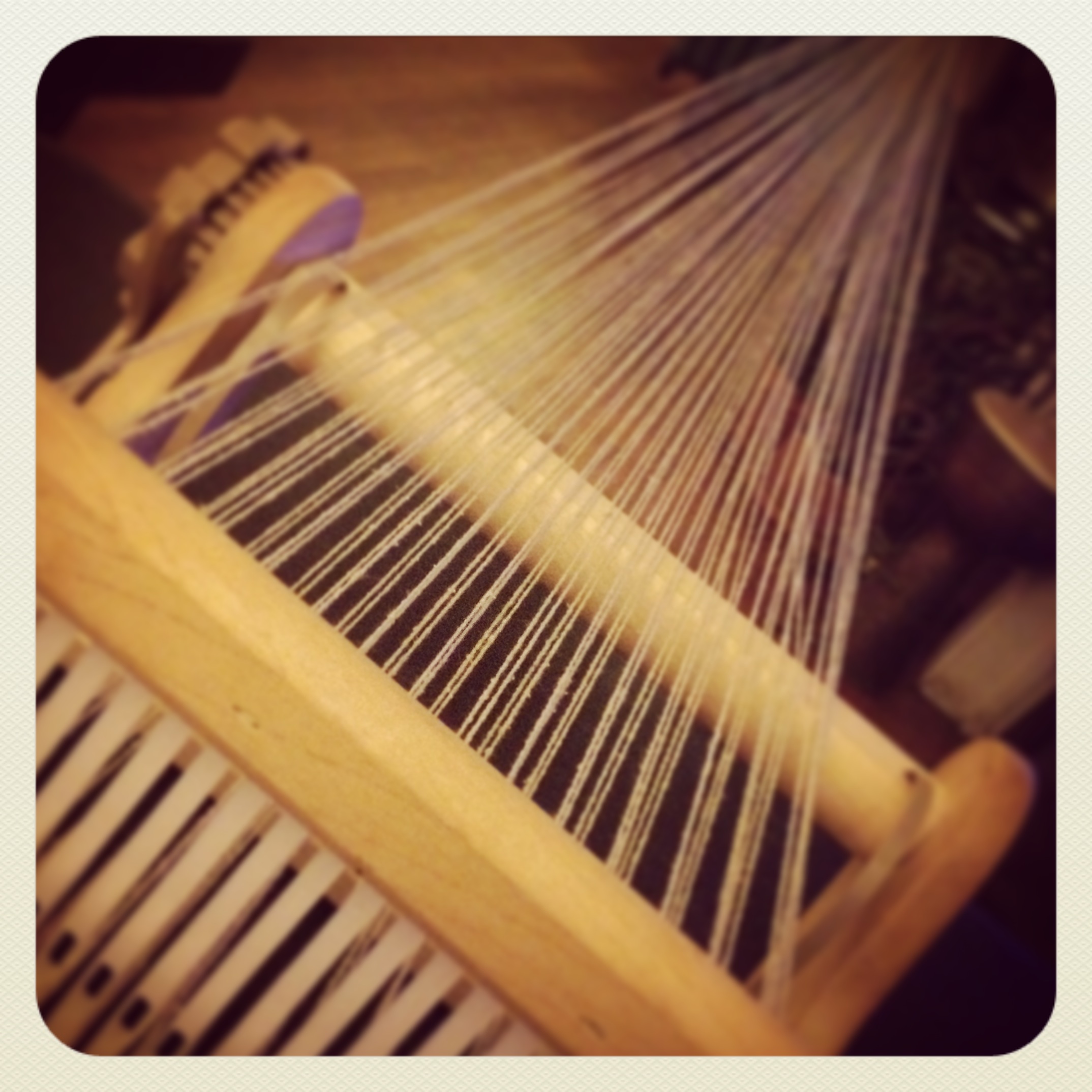 How long should my warp be?
I know for my Sample It loom, really 12 ft is about the max that the loom can comfortably handle. If you are making a series of smaller pieces, you can either warp a bit shorter (for example if you were making a 7ft scarf) or bulk weave some pieces (for example, if you were weaving 8in pieces for a series handmade pouches). If you are planning on weaving a series of pieces,  expect to have between 6-12″ of loom waste depending on if you will have fringe or not)
Most rigid heddle looms come with a warping peg. For me this is the easiest way to warp. You can also wind a warp on a warping board. I have only tried this once with disastrous results. It is something I would like to explore more because I would love to try my hand at hand painting some warps.  Here is a video of how to warp a loom with the warping peg.
The only other advice I have for warping is to be sure to use  some brown paper bags or sticks as you wind the warp onto the beam. This will keep your threads from sinking into the wound warp and messing up your tension. As you tie your  ends onto the strap, start in the middle and work out to the ends evenly. Then, be sure to go back and retighten your first ends as they may feel looser once you get all of the ends tied onto the strap.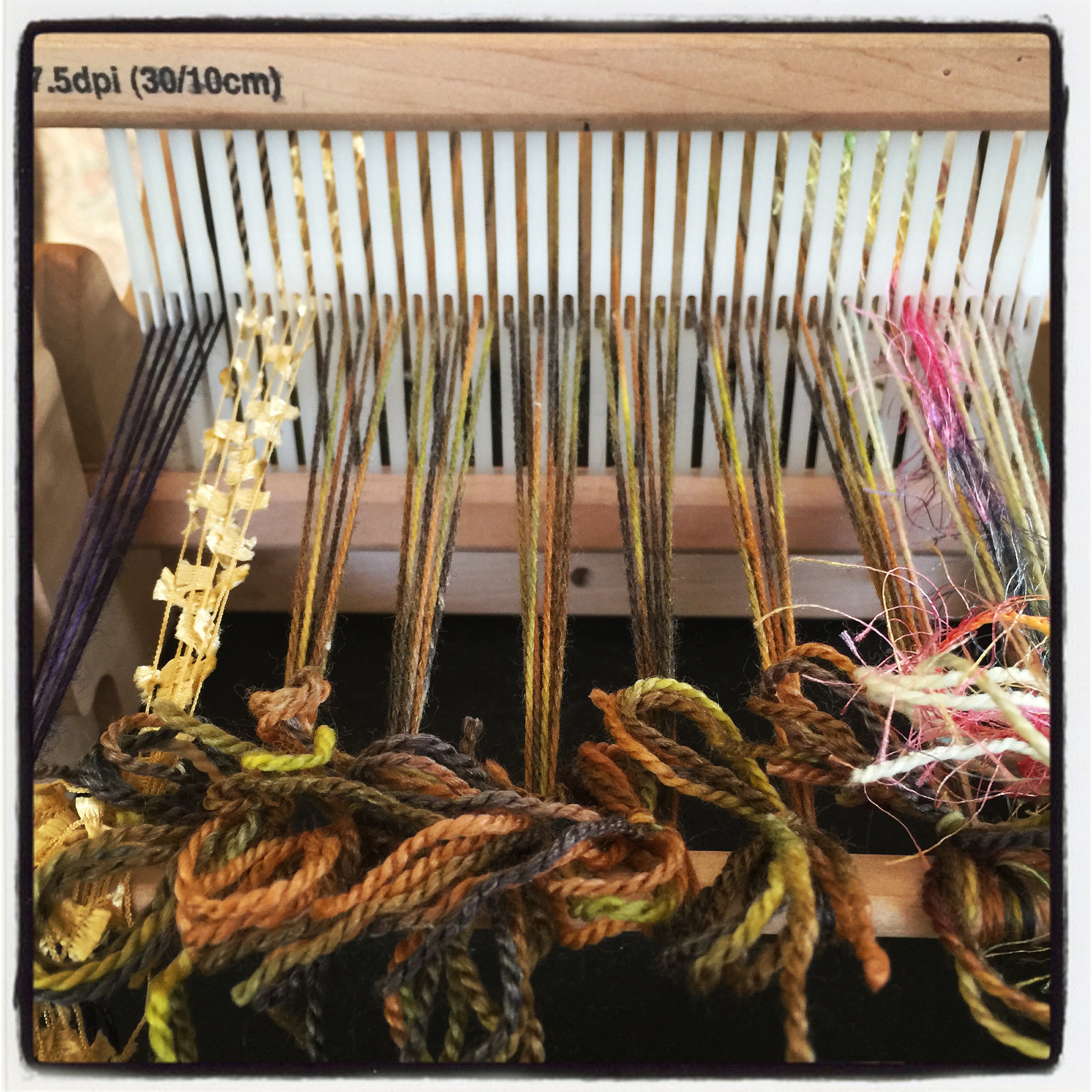 In the next part we are going to get to the fun part of weaving. The actual weaving the weft. I will cover just a few of my favorite techniques.
Do you have warping tip to share?
Leave me a comment below or post it in the Facebook group.