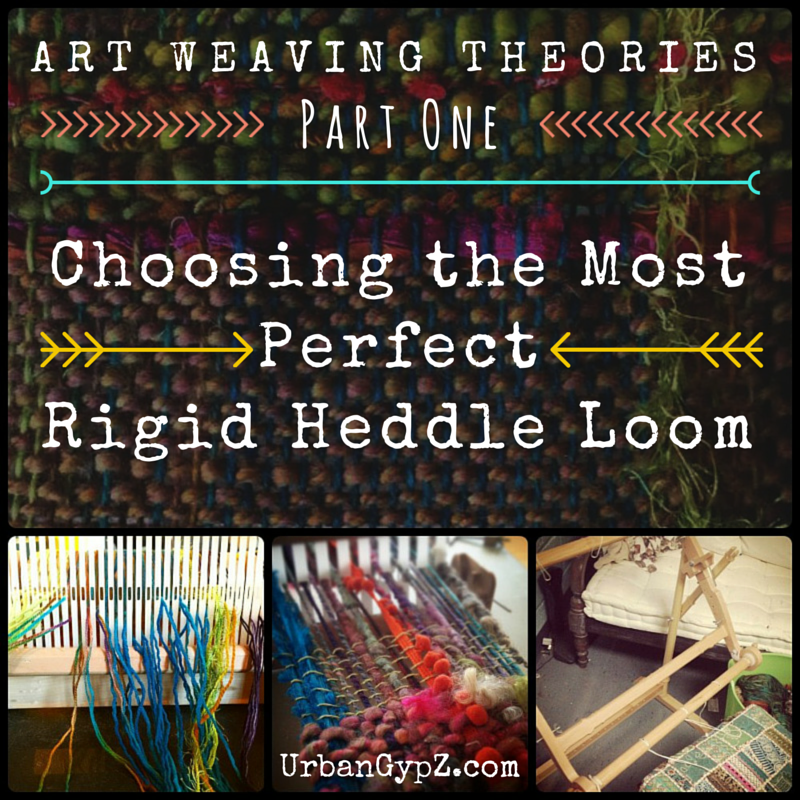 If you have been following my Instagram feed or Pinterest boards, you may have seen I have been on a weaving kick. I m totally blaming Debra Lambert of Picasso Moon, who taught the so very inspiring weaving class in Taos. I had already had a couple of looms, and had even done some intuitive-style art weaving.
But it wasn't until I came home with a tiny loom I had never imagined my weaving obsession would take off the way it has.
After getting a handful of emails asking about my weavings, I decided that a blog series was in order. This is the first post of a four part series sharing my personal perspective and process. I do not make traditional woven cloth. My weaving, like my knitting and crocheting, are born out of the yarns I dye and hand spin.
I weave to showcase yarn I love.
I am sure I break a lot of rules. So just be forewarned. This series is based on what has worked for me.
This is completely about rigid heddle weaving. While I do follow a lot of the theories of Saori weaving, I unfortunately do not have a saori loom (although OMG it is definitely on my wish list).
Why loom size matters…and it's not what you think…
Logic has it that a bigger loom will give you more flexible much larger width fabric. Yep, I thought that too. I had set out to get my first rigid heddle loom from my local craft shop. I was going for the biggest rigid heddle loom that they had– the 32″ Kromski Harp. The owner suggested the smaller 24″ because, as a weaver herself, she felt the 32″ was just a little wide to manage comfortably. And she was right. Especially since I am all of 5′ 3″ with an arm span of a short girl, 24″ was a better fit for my build.
But to be honest, the 24″ was still a lot of warping. I was surprised how much time was spent dressing the loom compared to actually weaving. That is why I was floored when Debra was finding all kinds of weaving love with her tiny portable 8″ loom. I would have never considered a "scarf loom" as such a creative outlet. My 8″ Sample It loom can be warped and ready to go in 20 minutes. And while I will share how the warp can be a great place to add little creative touches to your fabric, for me, the soul of art weaving is in the actual weaving my weft. I want to get to weaving as fast a possible.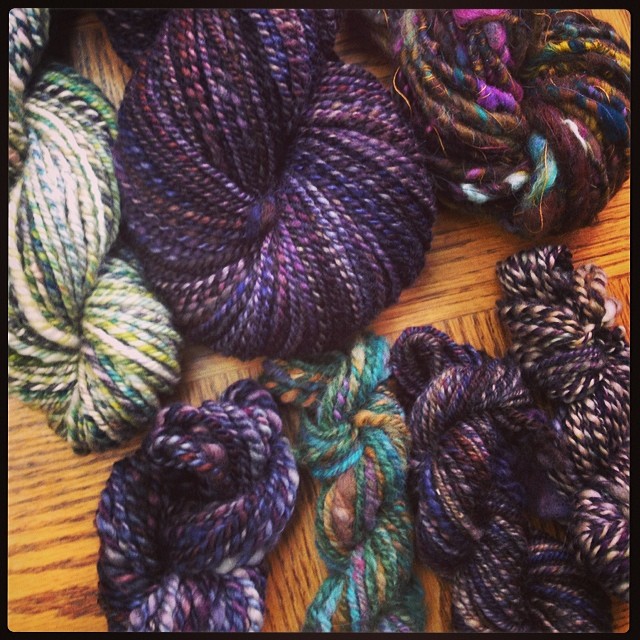 Consider your yarn, not your final projects.
When selecting your loom, it is so easy to assume you have an idea about what you will be making. I have found with many crafts, once I have fallen into the actual hands on creative work, so many inspirations for new ideas. I especially start to find new perspectives for techniques I was sure I would never resonate with. For example, I never liked the look of course hand woven cloth. This hippie girl thought coarse woven cloth was a little too hippie-rustic even for me! But, as I fell into the rhythm of designing every inch of my yardage as I worked, the fabric I was creating felt more like a tapestry than rustic yardage. And with the new small DPI and dynamic heddle reeds designed for working with chunky hand spun art yarns, and I was looking at a whole new creative direction all together for insanely textural rustic cloth.
So when selecting a loom, rather than looking at projects you think you will make, look at the yarn in your stash.
What kinds of yarns are you drawn to? What kinds of yarns are you knitting/crocheting with? What are you hoarding wishing you knew what to make with that one skein you had to buy? In art weaving your taste in yarn will be pretty close to what it already is. Do you have some textural art yarns you are hoarding, lots of sock yarn remnants? A crazy collection of silk lace yarns ready for some fine shawls? This will give you a bit more insight into what you will be more likely to weave.
Finally the skinny on a couple of rigid heddle looms I recommend you check out.
There are a lot of looms out there. These are the ones I have personally researched.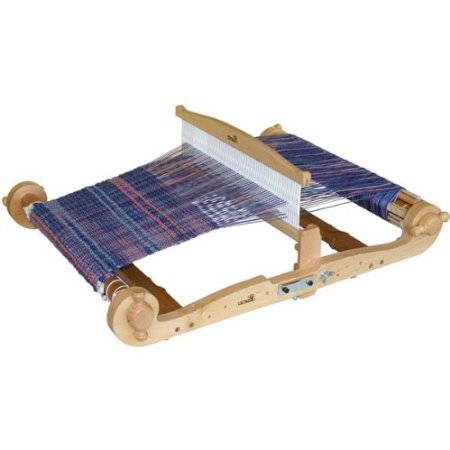 I have a 24″ Kromski loom. It was my first loom. There are a lot of good features including a built in warping board (which I never use). But I am not sure if I were buying a large rigid heddle loom again that I would pick this model. Nothing wrong with it, I just think there are newer looms out there with some sexy features that I wish this loom had. Otherwise it is a solid lovely loom. I also have the stand. I totally recommend getting a stand. You can weave without one, but the stand positions the loom so you are not hunched over it. Your back will thank you.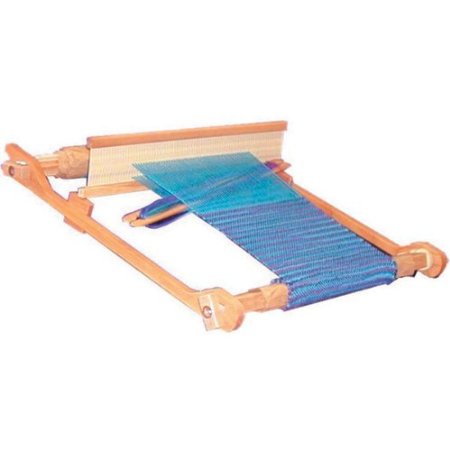 Originally marketed as a toy loom, Beka looms are a very affordable option for rigid heddle looms and worth a shout out.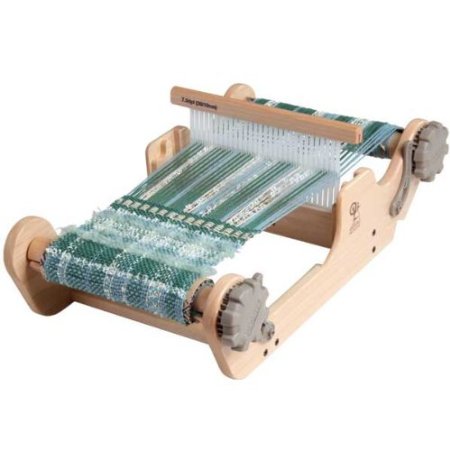 This is the other rigid heddle loom that I own. I never thought I would love a tiny loom so much. The heddle is not dynamic, but it have a heddle some crazy large dent size for art yarns. The main reason at the time I chose it over the Cricket loom.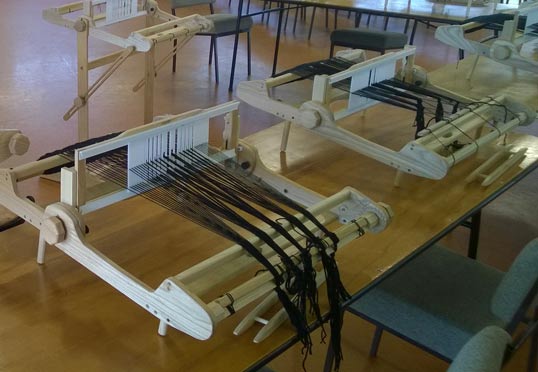 Holy Crap. If I had to buy my loom again this is the one I would pick. I love love love being able to vary the heddles to accommodate various yarn weights. It was designed with textural art yarns in mind.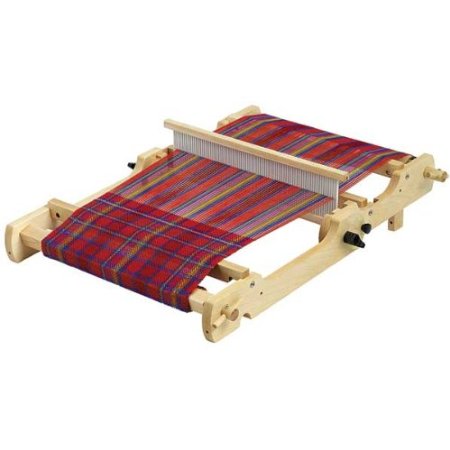 Schacht recently came out with their own version of a dynamic heddle loom. I am not sure the dent size is as open as the Majacraft, but it is still pretty awesome. Their Flip looms are like my Kromski Harp.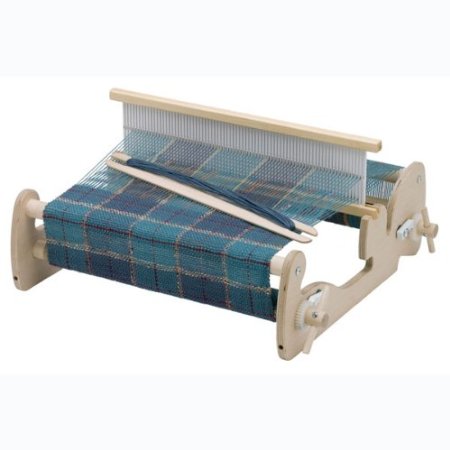 This is another really good tiny loom. It does come in a slightly wider weaving width (15″). They now make variable dent reeds for the cricket. I would totally have gone for a cricket if I had known they were going to offer variable dent reeds like the Majacraft dynamic heddle reeds.
This by no means is an exhaustive list, but it will definitely give you a place to start. I know there is no cheap way to dive into art yarn weaving tool wise. But if you are resonating with the crazy beautiful Saori style fabric, then it might be worth diving in with a small loom and seeing where that takes you. You just might be surprised how such a tiny loom can yield some insanely creative possibilities.
Do you have an art yarn weaving tip to share?
Leave me a comment below, post it on the Facebook page or shoot me an email
Sign Up for the UrbanGypZ Fiber Arts Collective