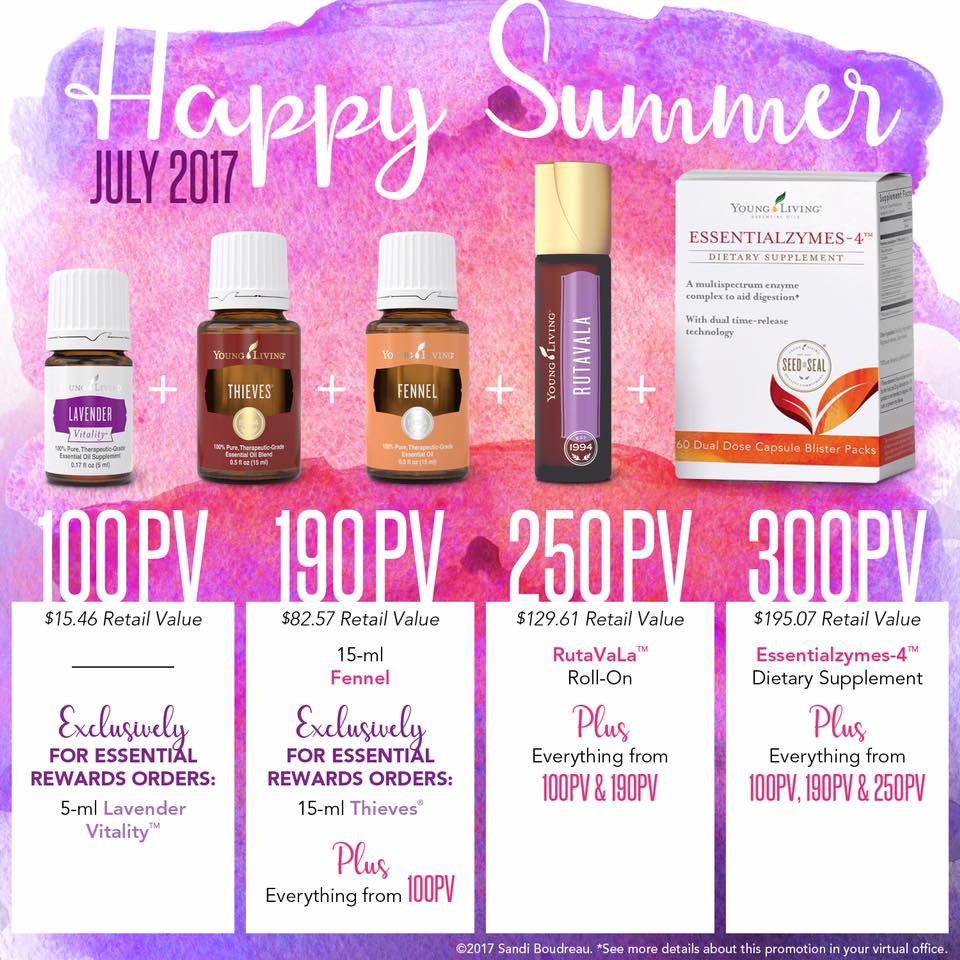 July Young Living Promos:
Essentialzymes-4: Take Essentialzymes-4 for all things digestion! This multispectral enzyme complex aids the digestion of fats, proteins, fiber, and carbohydrates. Take WITH meals, especially the fast ones…with less than ideal choices. They'll help your body absorb nutrients, and will break food down for you. You'll get this (and everything below) with a 300 PV order on Essential Rewards.
RUTAVALA ROLL-ON! It's been out of stock for over a year, and still isn't available for purchase! RutaVaLa combines Ruta (grown at our Ecuador farm), Valerian (praise hands), and Lavender (our grandma oil), and its roll-on packaging makes it easy for carrying! Some count this as their absolute ticket to good sleep. The ONLY way to get it is with your 250PV order this month!
Fennel (15-ml): A busy summer requires a little Fennel…it has a grounding aroma so grab it for unwinding and a refresh! Also useful for happy hormones and happy tummies. Get this with a 190 PV order!
Bonus Essential Rewards Oils (exclusive to ER orders):
Thieves (15-ml): We all know the power of THIEVES! You cannot have enough of this…..don't run out. Diffuse this blend to refresh your space keep everyone well!
Lavender Vitality (5-ml): Add a drop to your chilled glass of lemonade for a refreshing, sophisticated flavor!
Are you ready to get started with Young Living? Click here to go to the sign up page and order your Premium Starter Kit.
Let's Do It!