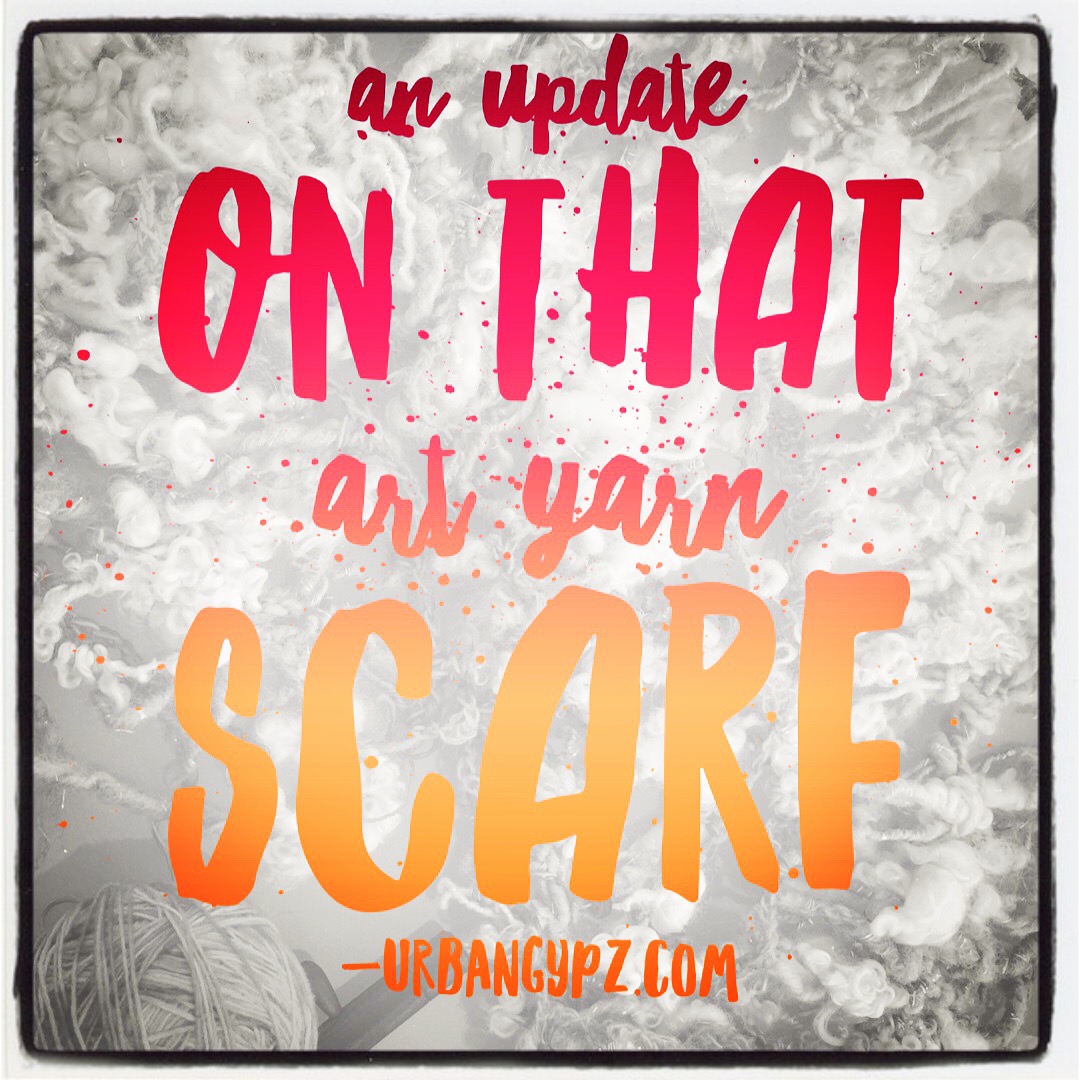 So, Last week I made a video showing you how to use a hairpin lace loom to make an art yarn scarf. If you missed that check it out here. Once the camera was off and as the video loaded, I started to mull over ideas for finishing this scarf. And of course as is the norm for my ambitious right brain….this project has mushroomed and is now threatening to become a shawl.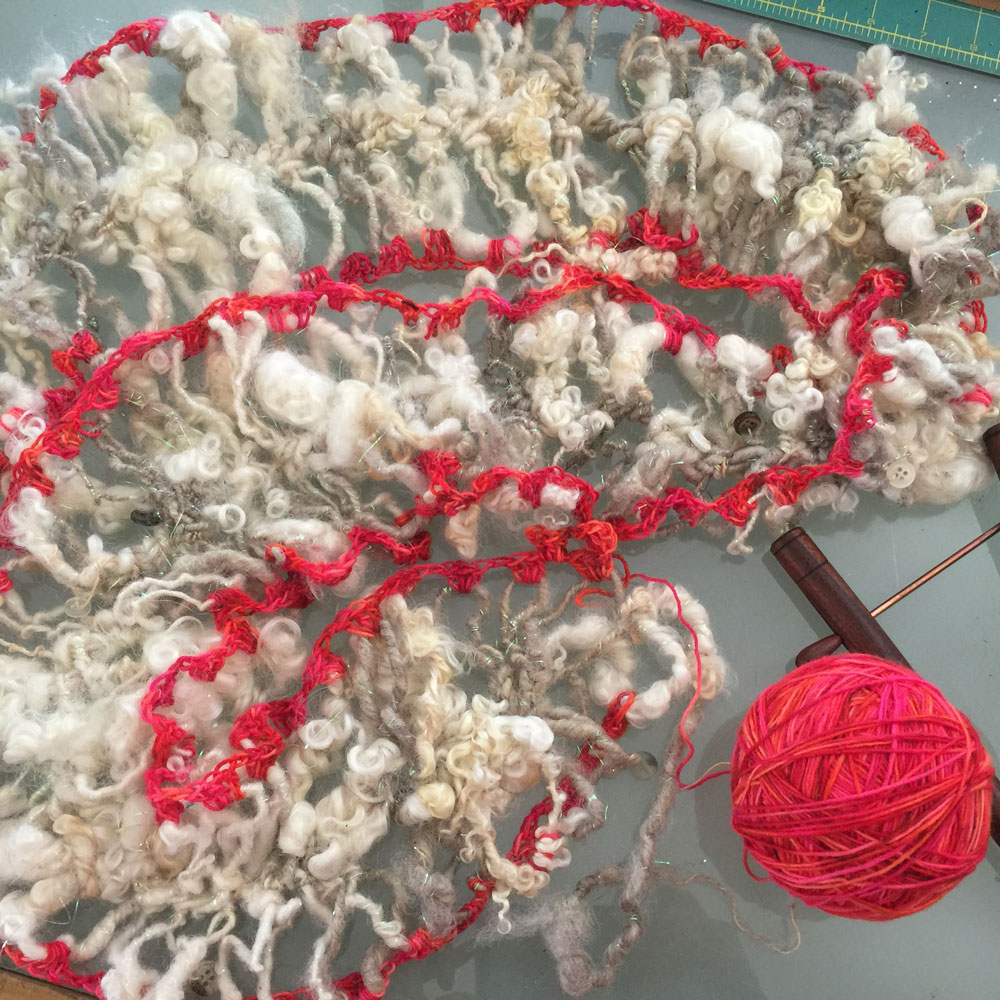 My latest color jam has been light warm neutrals(beige, cream, light warm grey) punctuated with hot pink and orange. So I pulled out some screaming hot sock yarn and crocheted an edge, putting a cluster of 3 double crochets into each of the loops. I almost left it as is, but decided that I needed to flesh out the color pop just a little more, maybe asymmetrically…
But first I decided to pull together some coordinating yarns to see if maybe I would prefer keeping the pops thin as I added some width to this piece. So far these are the yarns going into this project bag…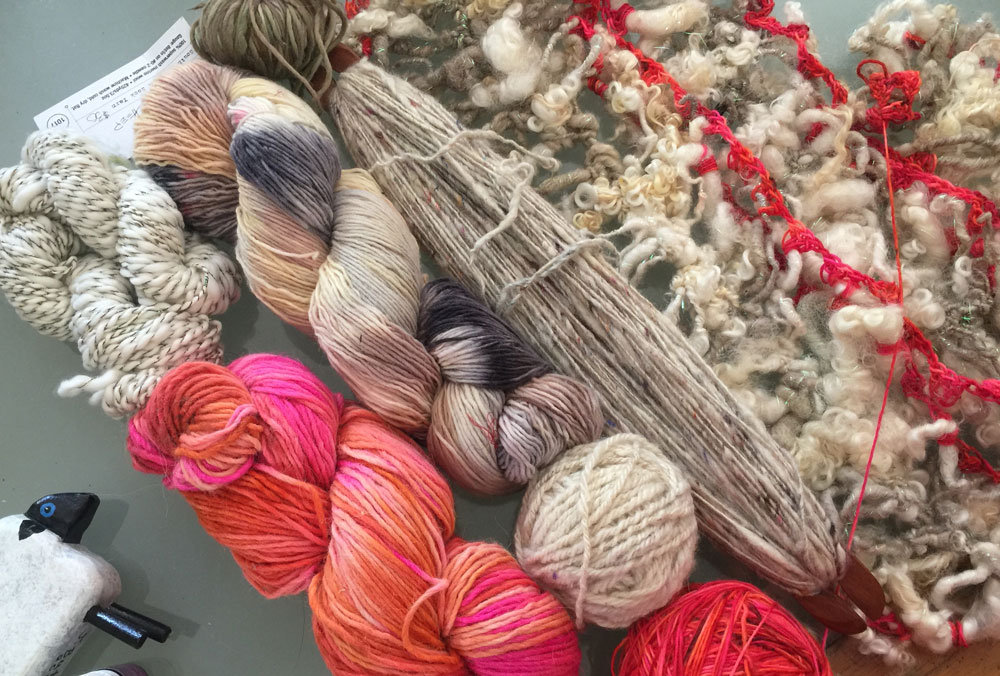 So some of the theories behind this selection. I added another hot pink yarn is a slightly different tone and texture. I am not sure if this will end up in the piece or not, but I think there needed to be a bridge between the stark contrast from the super bright and the neutrals. I don't want there to be too much pink here, but it needed something else. I am also picking the variegated neutral with a little dark grey for depth and little blush pink as a nod to that hot pink. This I feel will be a big part of the shawl/scarf. But we will see. I also pulled together as much handspun using undyed fleece as I had. I needed to play up what was already in the piece, but find some smoother textures. I am also adding the tiny bit of beige-grey worsted that I have. This will draw out the grey Montedale in the art yarn. Not pictured, but I may add it in is an undyed skein of alpaca/merino/silk yarn to round out the creamy white neutrals.
I will keep you posted as to where this is going. But can I just say…OMG this is the first new fiber art piece I have felt compelled to dive into after a long hiatus to work on my new clay obsession. So what are you working on? leave me some comment love below, or shoot me an email. You guys inspire me more than you know.
Sign Up for the UrbanGypZ Fiber Arts Collective