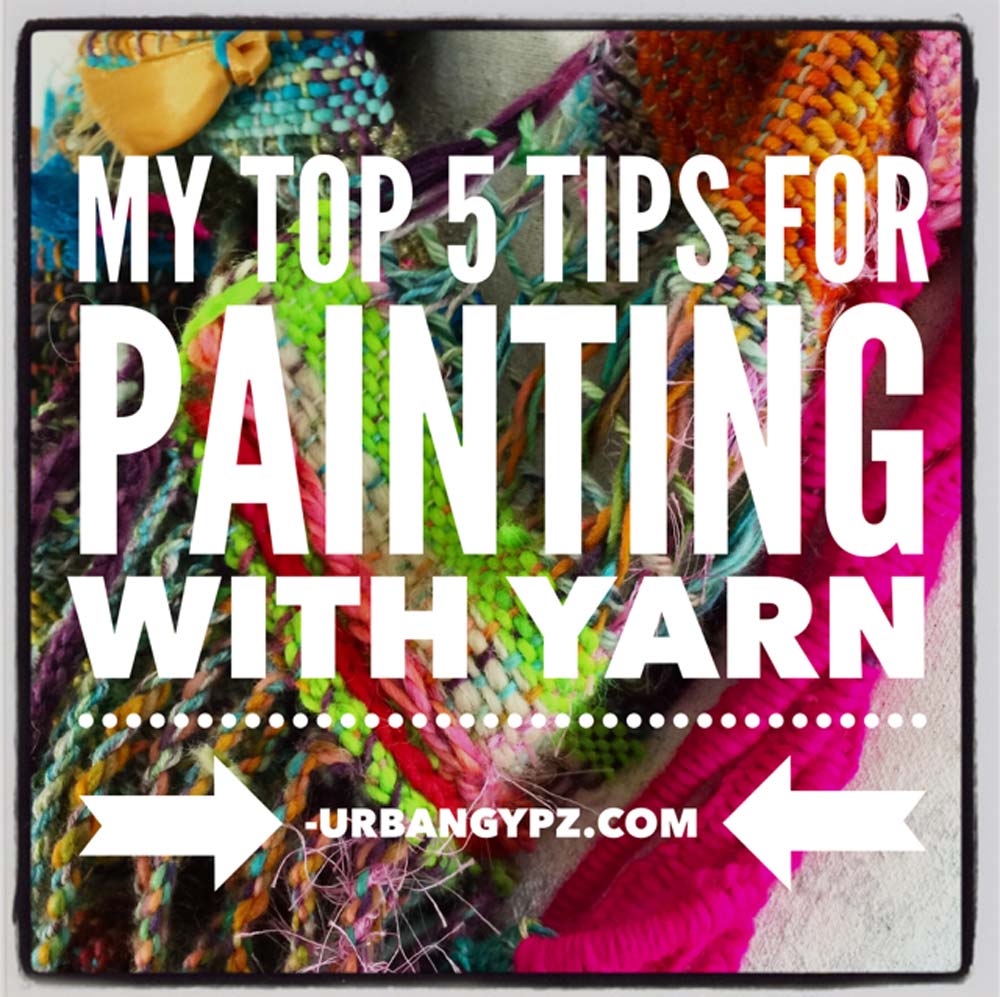 I know it sounds crazy, but It seems like every project I have worked on in the last 2 years has been some sort of stash buster. Maybe it is because I have a crazy amount of stash filled with odd skeins and test runs of dyes and hand spun. But honestly, I have been digging into creating fabric in a method I describe as painting with yarn. Now granted, I absolutely HATE to waste any bit of yarn. So stash busting sets my conscious at ease. But really, I find watching textures and colors compliment, contrast and play off of each other makes my heart sing.
Here are my top 5 tips for learning to paint with yarn no matter what your medium (knitting, crochet, or even weaving)
1. Keep the shapes simple.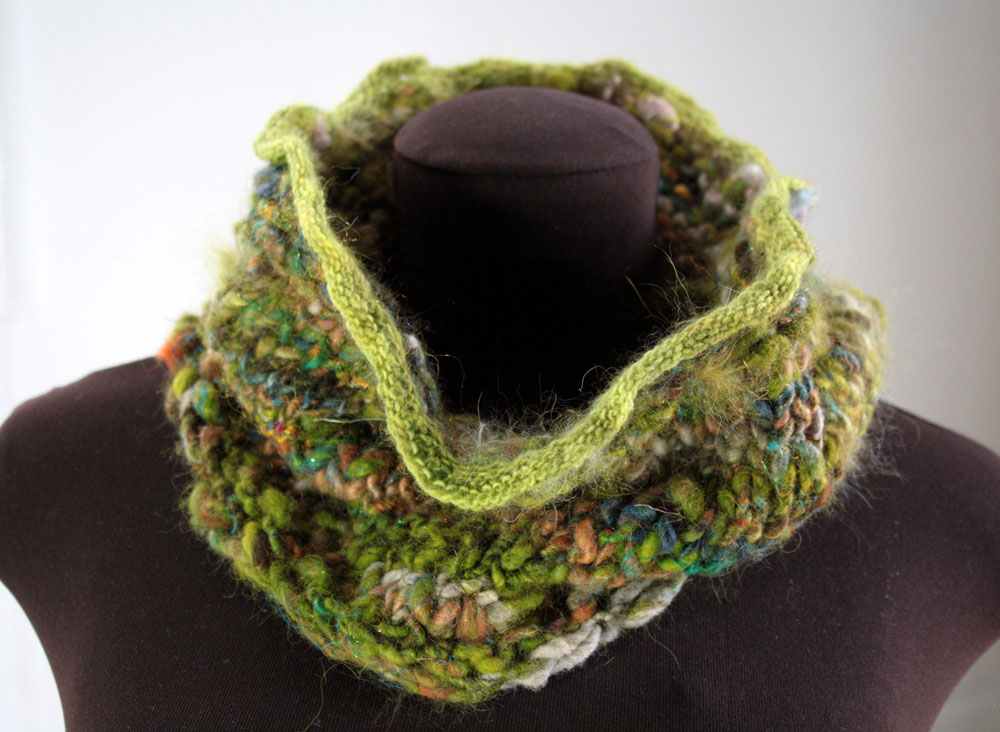 This kind of fiber work works best with simple shapes. The  fabric is what you want to focus on, complex stitches and shapes will detract from you work.
2. Go for the overall feeling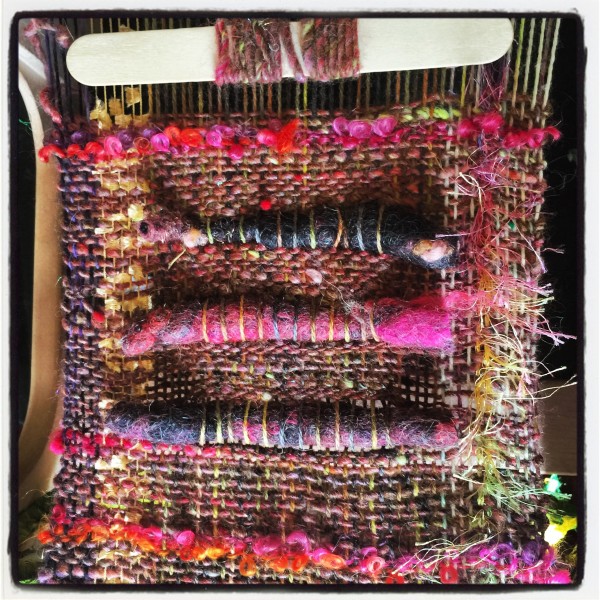 Colors and textures when used to convey a feeling or mood, make for a piece that resonates on an emotional level. Think about it, have you ever fallen in love with a ball of yarn? So what do you want this sweater/scarf/hat to feel like? Regal traditions? Playfully girly? Mellow and cozy?
3. Focus on just the small section you are working at the moment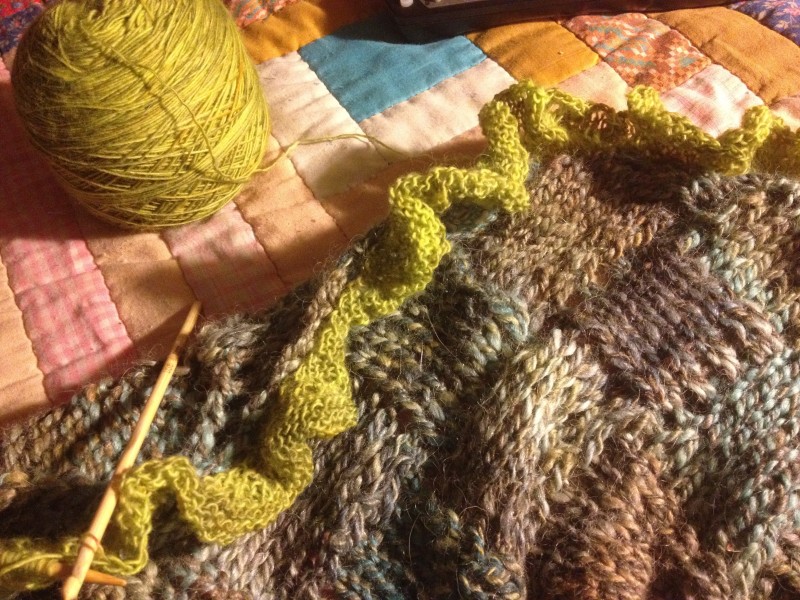 Most patterns and projects are focused on the overall finish project. When painting with yarn, it is hard to manage so many bits on across a full scale project. Once you have the general plan down, pull back and just focus on the small section you are working in the moment. Worry only about the combination of textures and colors on your needles/hook/loom in front of you. I know it takes large amounts of faith that it will all work together. Trust me it will be fine. And just know you will always like some sections a little more or less than others. Check out the video I made demonstrating art yarn weaving. I talk about this and you can see how I work just with the area in front of me.
4. Be open to serendipity
Try to keep a sense of wonder while you work. Many of my big a-ha moments happen by accident. Mistake ALWAYS lead to wonderful discoveries or lessons learned. keep an eye out for those moments. I swear they really are a gift.
5. Art Journal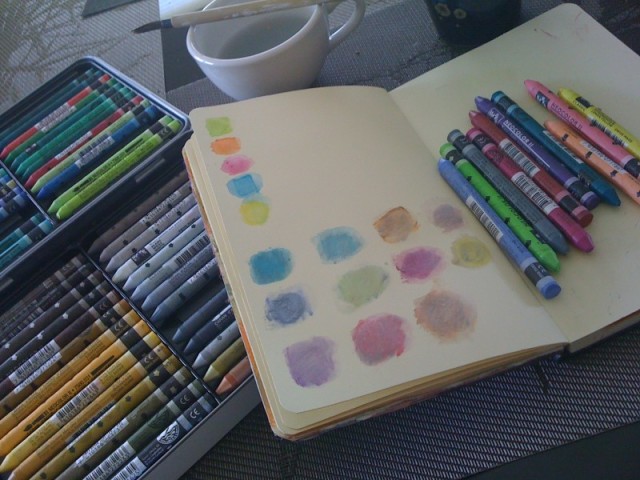 If you have been reading my articles or watching my videos, you know I am a HUGE advocate for art journaling. It is the first thing we learned to do in art school (seriously, day 1 freshman year) it is a way to document your ideas, hammer out your style and is invaluable for growing your work. Your journals do not have to be crazy fancy , they just need to be a place to hold your right brain ideas. I even use it for all my left brain stuff too, so I have everything in one place. Check out my journals here:
The trick is to keep using your art journal as your visual sounding board for all you passing ideas, and time to yourself to just play with art be it cheap watercolor tins, doodling, or just pasting stuff. Every now and then I challenge myself to do so for 30 days straight.
So what are your favorite tips for working with handmade yarn? Leave me a comment below. And if you like this article, please share on your favorite social media.
Sign Up for the UrbanGypZ Fiber Arts Collective