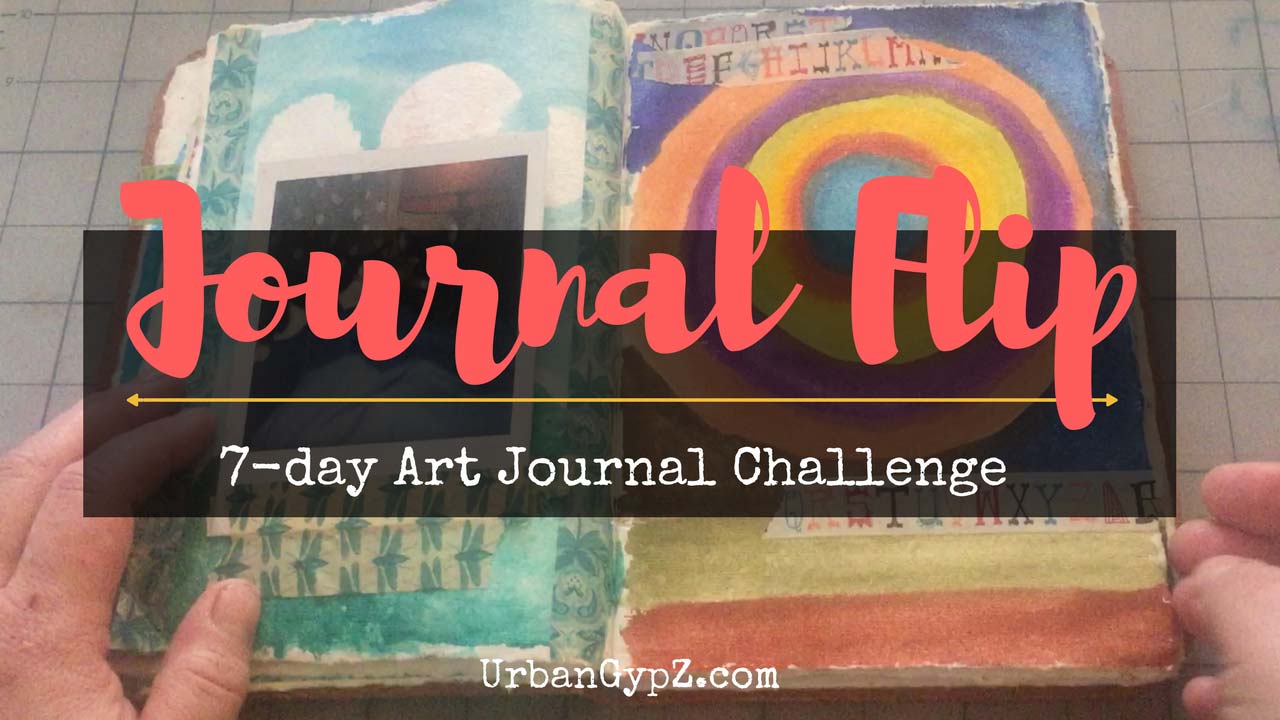 Confession time….I have fallen hard off the art journaling.
While I would like to be able to say I am one of those people who can not live without her paper brain, lately that just has not been the case. I have always admired the sketchbooks of artists who are constantly working in them, Those books are a work of art in and of them selves. And I have seen first hand in the Graphic design industry, how those journals have helped some of the most successful creatives in the industry grow their work. Those journals are how they process ALL their ideas into form. It is how they keep their creative brains limber. It is where they let their creative ideas play and grow without judgment or outside influence.
I find artists are pretty polarized when it comes to working their ideas out on paper. I once taught a college level design class and required the students to keep sketchbooks as well as provide thumbnails and roughs of their work. Half the students hated going through the documentation process, thinking it was wasting creative time. The interesting thing was it took those students more time to do the work, and they did not have a reference to refer back to for future projects.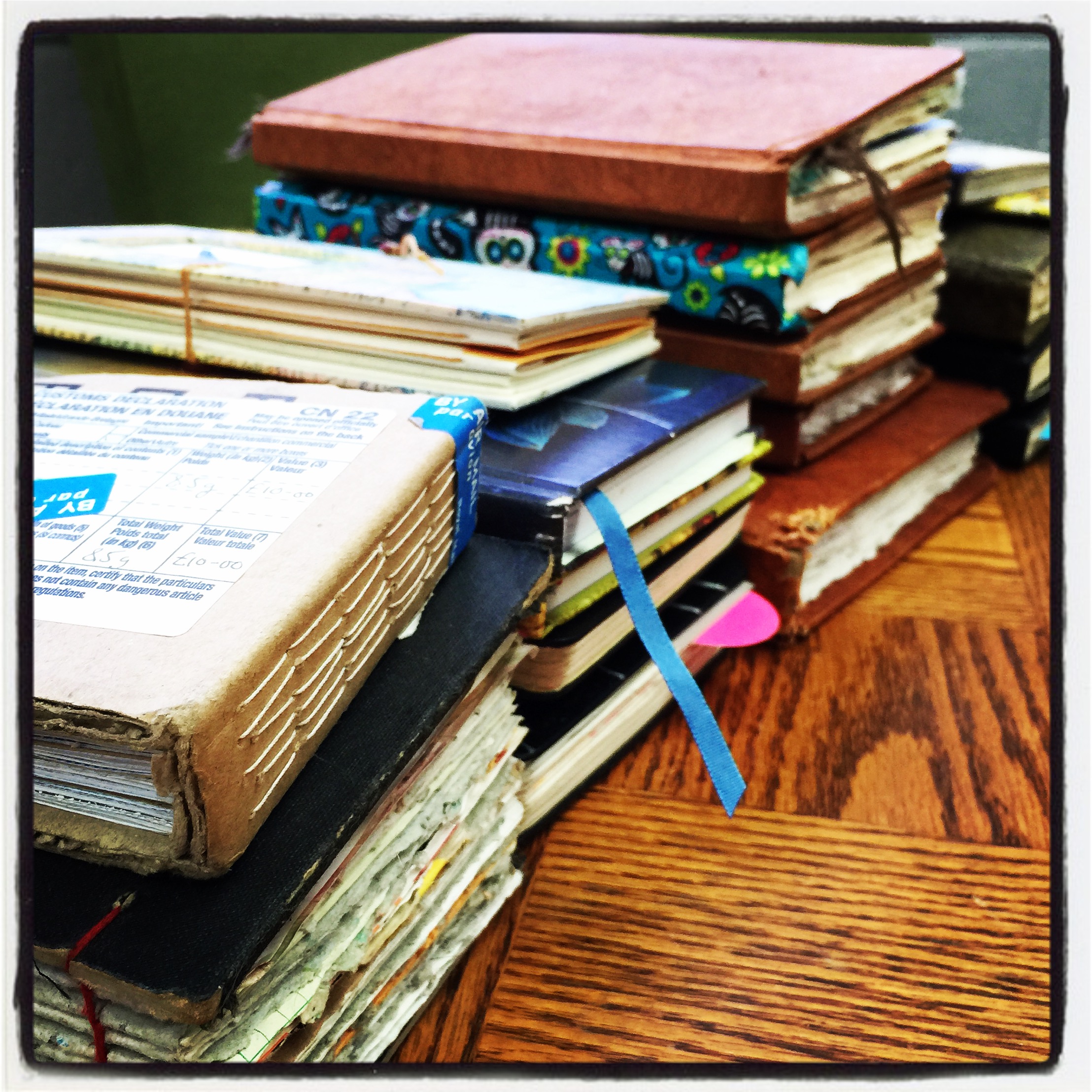 Since the beginning of the year, I have been in a much needed creative flow. Finally settled into a routine in my new town, with an amazing new studio resource available to me, I am awash with so many ideas right now. I am so grateful and it i like a breath of fresh air after 2 years of stagnation while we sold our house and moved. But alas, my ideas are scattered among so many tiny little notebooks. It is time to wrangle those into one place. Here are some of the things I need to document
I am on the edge of a new body of work with my weaving integrating my new love of clay
I have been in the thick of a LONG website overhaul and with each page I start to rework, I find 3 more pages that need to be redesigned or created altogether.
I am developing a series of dyeing tutorials and will have copious notes
I am making clay stuff and have so many new ideas I just can not keep up with them all.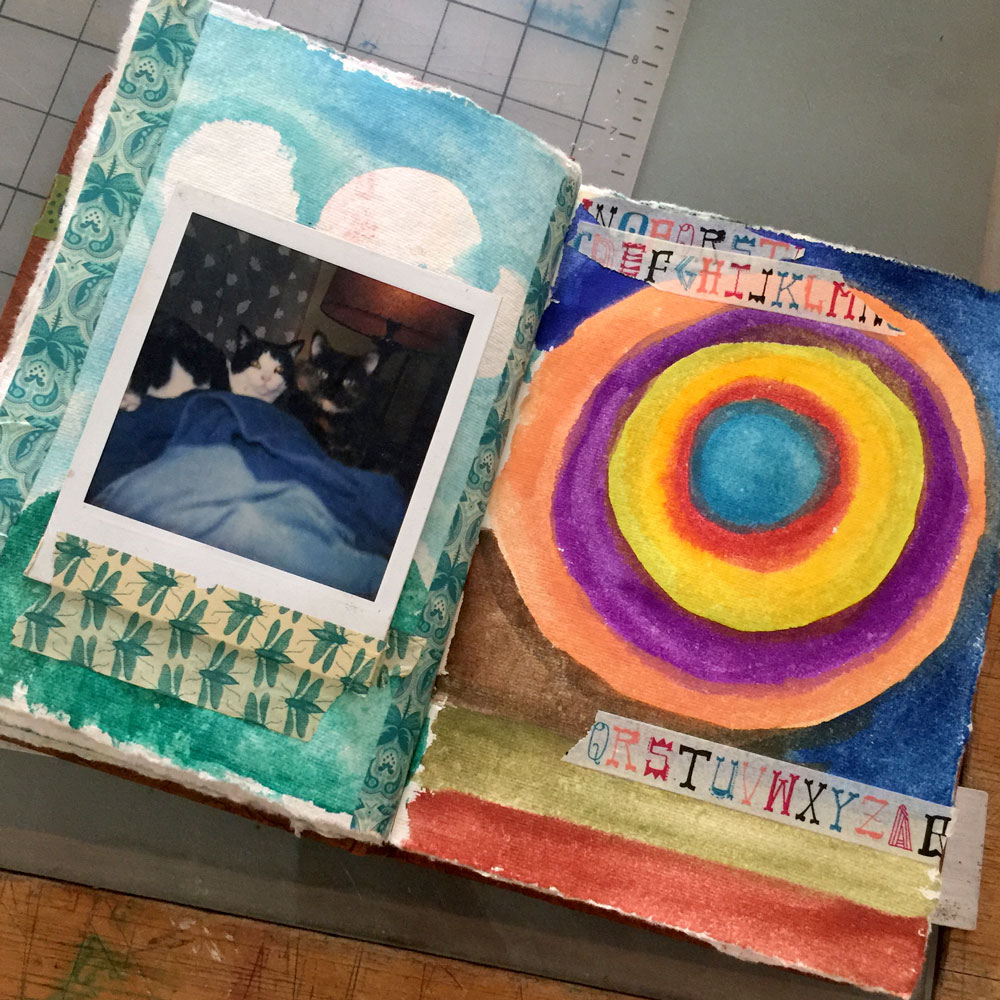 I have an art journal that I started last fall that has been shaping up very nicely. I am loving all the pages so far. Liking them enough to be afraid to actually write  on them! I have added quite a few pockets, not just because I have written my notes in other notebooks, but because I am kind of afraid to mess up my book.
BUT…If I were working in my journals on a much more regular basis than I would be less afraid of messing up.
So if I understand why journals are so important , than why the hell do I fall of the habit? A few years ago I created the 30 day art journal challenge as an exercise for myself to get back into the art journal groove. And Ironically as I am finding I want to get back into the journaling groove again, I am also in dire need of updating the 30 day art journal challenge.
So here is my accountability, For the next week I am posting my daily journal work to my Instagram. In the mean time here is a journal flip of my current book.
Want to join me in the 7 day journaling challenge on Instagram? Leave me comment below with your Instagram link and use the hashtag #7dayartjournalchallenge on your posts this week.