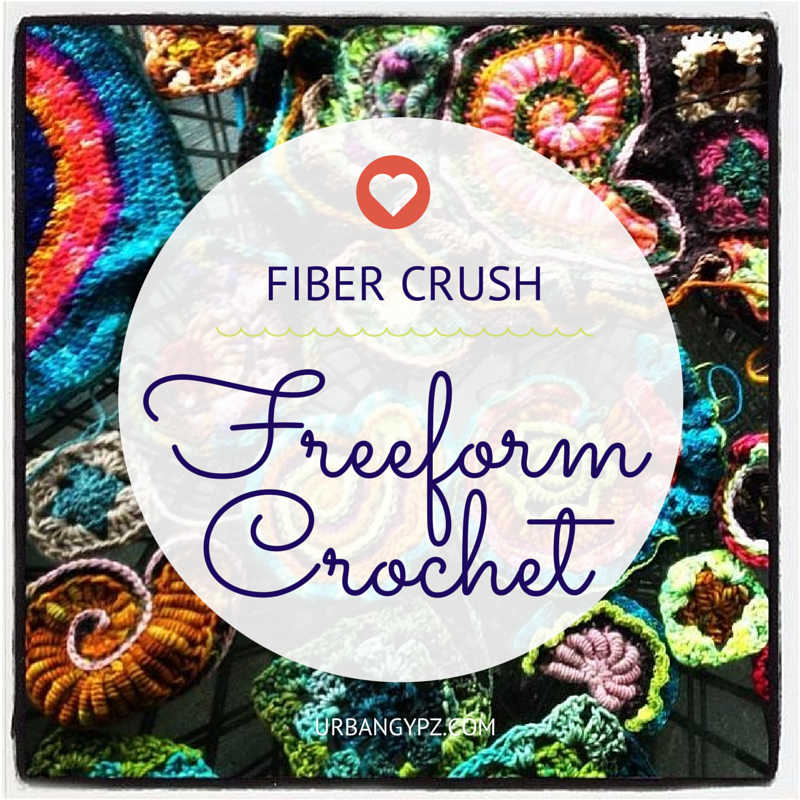 This past labor day weekend I spent a solid 3 days working my hand dyed and hand spun yarn using freeform crochet.
Freeform crochet is a way of making a series of motifs created improvisationally and pieced together to create a fabric.
Prudence Mapstone is known for this work and her book is a bible of this technique. This is a sample of her work.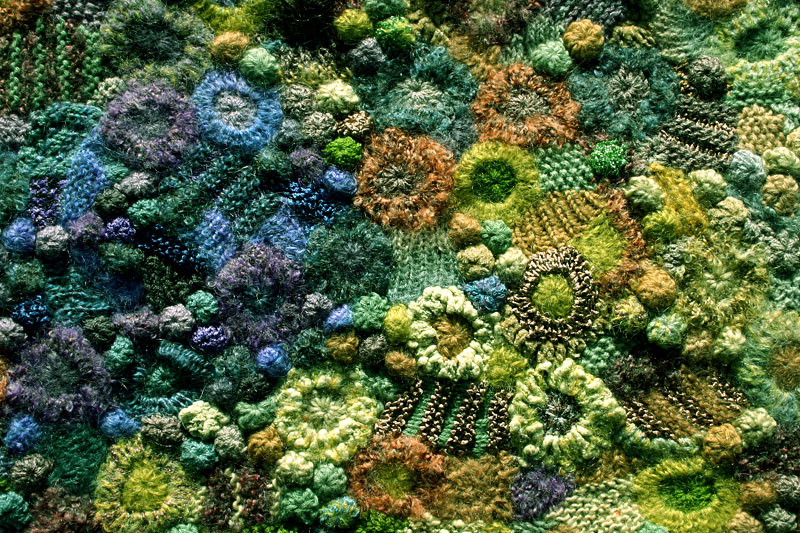 I will be honest, I was not a big fan of the finished fabric when I first considered freeform crochet. I like the theory of knitting improvisationally. I love the idea of combining yarns. I even took a couple of classes 10 years ago at the TKGA conference in Atlanta on combining yarns and improvisational knitting/crocheting. I wrote about them, years ago, here.
It wasn't until I saw Hannah Martian's work at Of Mars in Nasheville, TN, that I fell in love again with freeform crochet. Find her Shop here, and her Facebook page here. I love her colors, and the general composition of the motifs. The variety of sizes and the way the motifs play off of each other as if to create an undulating series of illustrations. It invites your eye to flow from one motifs to the next. I just can't take my eyes off of her work.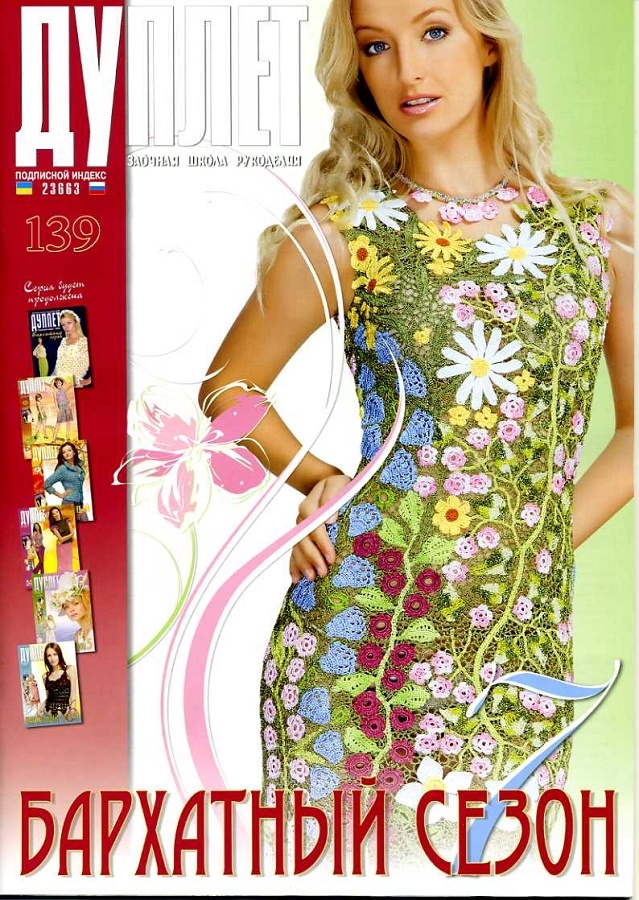 via Duplet-Magazine
In a way, Hannah's sense of composition has the same sensibilities as the Irish crochet movement I have been seeing come out of Russia. I love the negative space between motifs and the designer's sense of composition. The delicate nature of this fabric also plays a big part of why I love this work. But like Hannah's work, I feel invited to flow from motif to motif, and find I just can not keep my eyes off of these pieces. I decided to dive into my own study.
I believe that getting clear about how you can fold a new technique into your own style has more to do with knowing what you do not like, than knowing what you do like.
When you are just pulling what you like, you run the risk of actually copying a lot of stuff. What if you were to just sit down and play with yarn and technique, make a ton of mistakes, learn from them? In art school we had critiques. Your creative growth was formed more from figuring out what was wrong and fixing it, than from being stuck in a place of the same old "good work".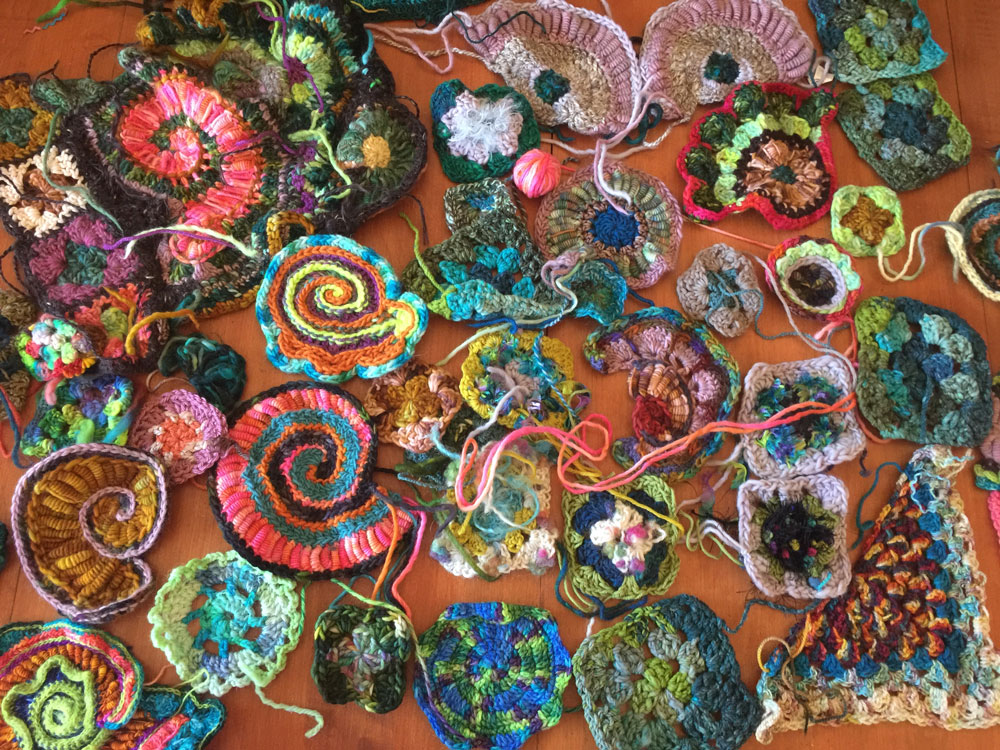 So, while watching three entire seasons of Mad Men, let my self become obsessed with freeform crochet. I woke up each morning, made coffee and worked and worked. While surfing Pinterest. With a pile of hand dyed yarn all around me. Trying not to over think it. Playing with stitches and color. Perfecting my bullions! I spent all of Saturday knitting a hat that never materialized. I ripped that thing out 5 times. I then moved on to motifs. I like motifs because they are small and forgiving.
After I make an obscene number of these, I will edit, piece and fill in.
So, here is what I know about what I do not like:
I think when all the pieces are the same size, the fabric looks too busy. This technique begs for composition much in the same way a painting does– a variety of sizes, and fabric that is not too busy, but more inviting.
I have not seen a lot of color combinations that I am loving. But I will be honest, I think that about a lot of yarn out there in general. The simple solution for me is to apply the same color theories that I have about my colorways to this work as well.
I am not loving a whole lot of novelty yarn in my motifs. I want the texture of the stitches to stand out more. I do not think fun fur is helping at all. I am even on the fence about adding art yarn, maybe in small accents, but not a lot, really. Again, I want to dial down the busy to inviting.
I have yet to see a finished piece constructed that I absolutely love and/or think is actually wearable. But, then again, I think this about a lot of sweaters out there… There is a lot going on in the fabric itself. And like working with art yarn, serious texture is a big consideration in and of itself. So a simple construction will be a given. The rest is still TBD.
I still have a lot of crocheting and studying to do. I am still making a ton of motifs. The obsession continues. Stay tuned.
Sign Up for the UrbanGypZ Fiber Arts Collective