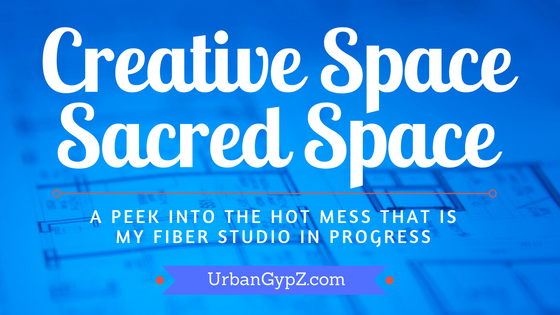 The guy that moved us was also an artist. We were talking about the joys and woes of having a space at home vs. a space outside of home. And it is true it is a catch 22. You want the convenience of being able to feed those late night inspirations without having to drive across town. But often having a space at home can lead to never having any separation or downtime. And it is true, while I loved my little basement space with the large windows, it was not really feasible for me to hop in the car and go to the studio late at night. So often I had several projects at home as well. But with no good storage in our tiny bungalow, those projects were everywhere. I like to spread out when I work…
The thing that attracted me to this home was hands down the studio space. The mother in law suite is the only thing on the first floor, aside from the garage. And I am trying my darnedest to not let the studio creep into the living space short of a couple of knitting projects in the TV room.
For me creative space is sacred space. If I am not liking the set up, or location of my space, I find it harder to focus. I am also finding that there is a fine line between objects that inspire and clutter that makes it hard to focus. I also know that often times you need your yarn and fiber in front of you, to let keep them in the forefront of your mind while you work. I am finding catering to creativity often feels like I am at the mercy of a spoiled moody inner child. I also have no doubt my therapist would have a field day with that theory.
So here is a peek at this week's progress on the studio.
So what are you absolutely must haves for your creative space? Leave me a comment below.
Sign Up for the UrbanGypZ Fiber Arts Collective