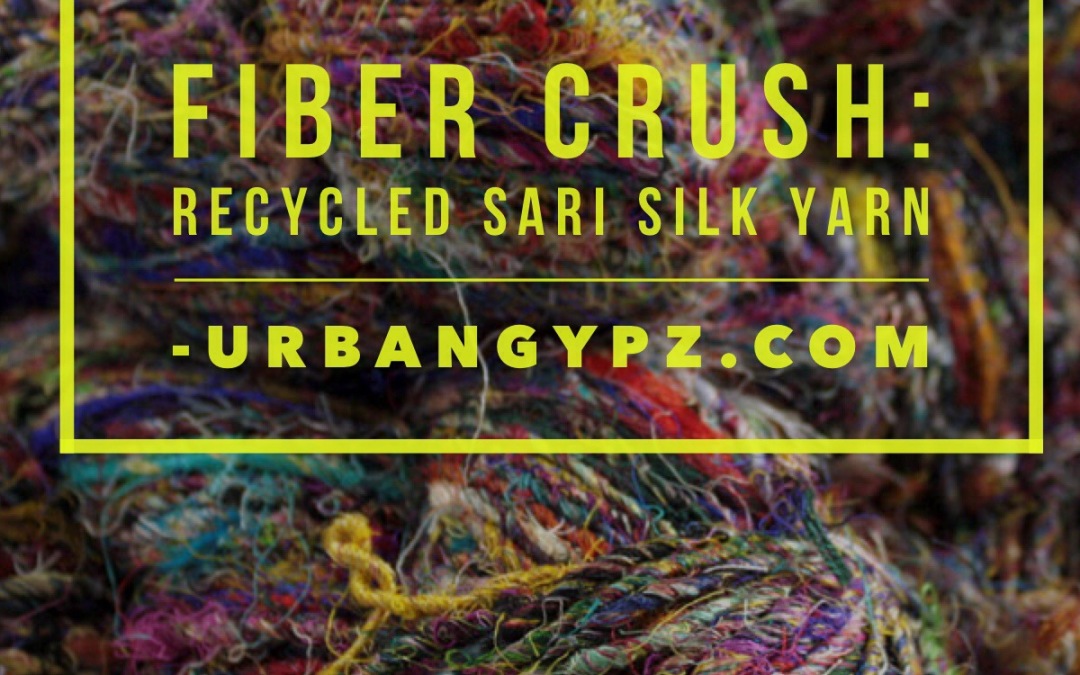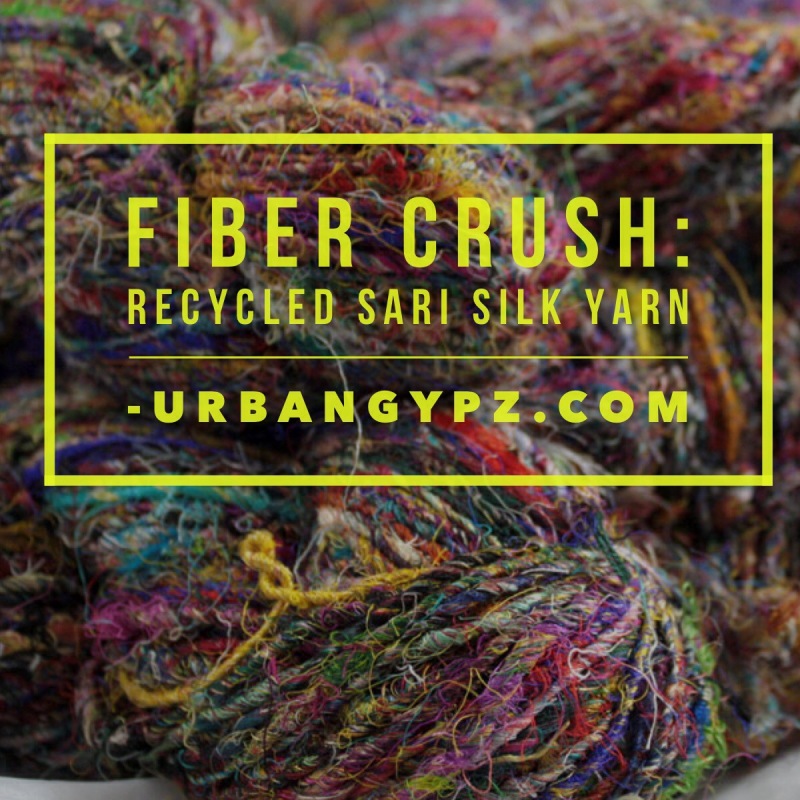 It is easy to see why lots of people fall in love with sari silk yarn.
I personally LOVE IT. Rustic and colorful, I get my yarn directly from a fair trade collectives in India and Nepal and is hand spun but village women for a fair wage that supports their families and community. This yarn is made form fiber waste collected from the fabric mills that makes saris. The fiber content is a blend of silk, bananna silk, cottons, rayons, and metalic fibers.
As beautiful as this stuff is, it can be such a total pain to knit up, but so worth it.
I have some tricks up my sleeve to help while knitting this up.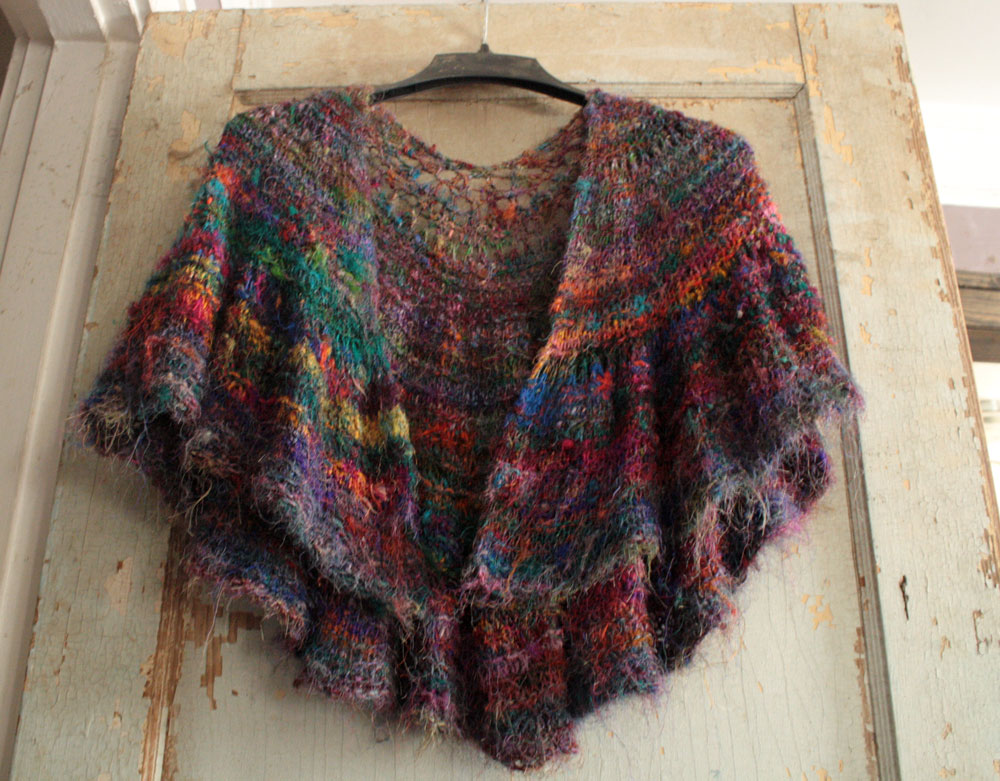 Love this shawl?
It is a free pattern download!
You may or may not be familiar with the sari silk crescent shawl.
I love this shawl. I designed it 4 years ago, after searching in vein for patterns for sari silk yarn that was not a hand bag.
This pattern is base on Elizabeth Zimmerman's Pi Theory Shawl which was published in Elizabeth Zimmermann's Knitter's Almanac. And this is really not so much a pattern as it is a theory.
This is just a good basic shawl pattern.
You can work it with any weight yarn and because of the large sections without increases, you can insert any stitch pattern or sets of stitch patterns. A very easy formula to design with. I however am not a big fan of full circle shawls, but i do love half circle shawls. They seem to stay on your shoulders better. This pattern actually knits up to be a little fuller than a half circle, so it hugs your neck and shoulders.
For the sari silk shawl I worked the stitch pattern rows in garter stitch. Sari silk yarn is very textural and colorful, so I did not feel any stitch pattern would be necessary. I wanted the texture of the yarn to be the feature.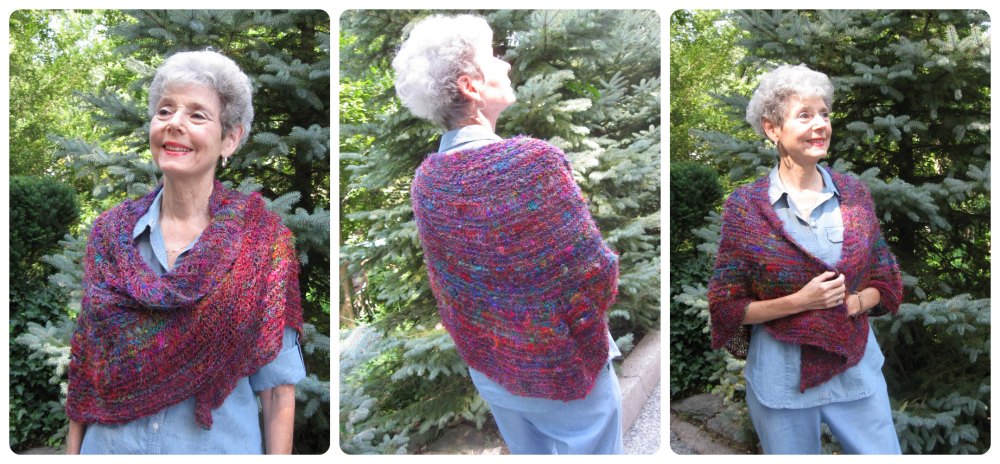 Other things you should know about working with sari yarns:
Because this yarn is spun with extreme variations in thickness, and measured by weight, the yardage can vary tremendously.
This yarn is also prone to breaks and knots. It is all part of the rustic quality of this yarn. I personally let them stand out, and knot my ends as opposed to weaving them in.
I recommend hand washing separately in cold water with a gentle detergent; it may not be completely colorfast, especially the first time it is washed. You may want to dry clean only.
Here are a few other patterns using recycled sari yarn: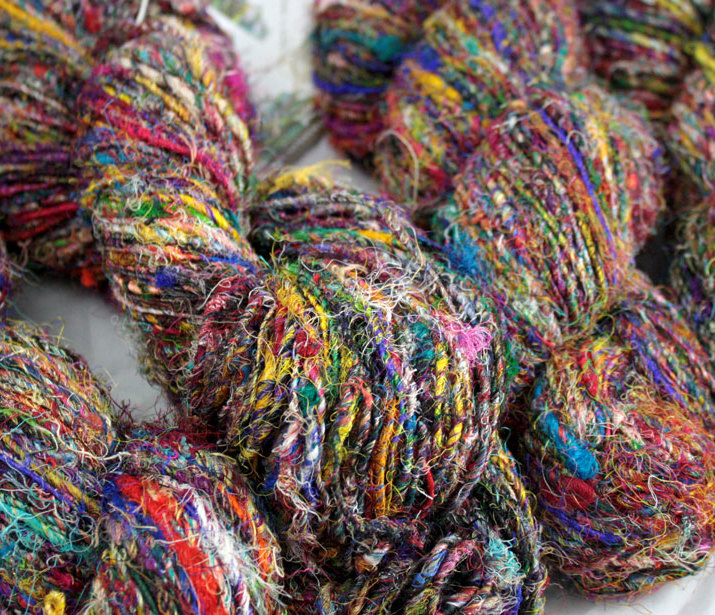 What are your favorite patterns for sari silk yarn?
Do you have a project using sari silk yarn to share? (I LOVE LOVE LOVE seeing pix of what you are working on) Leave me a comment below, post it on the Facebook page or shoot me an email